Thank you to everyone who made the 2023 SKCM² Symposium a great success!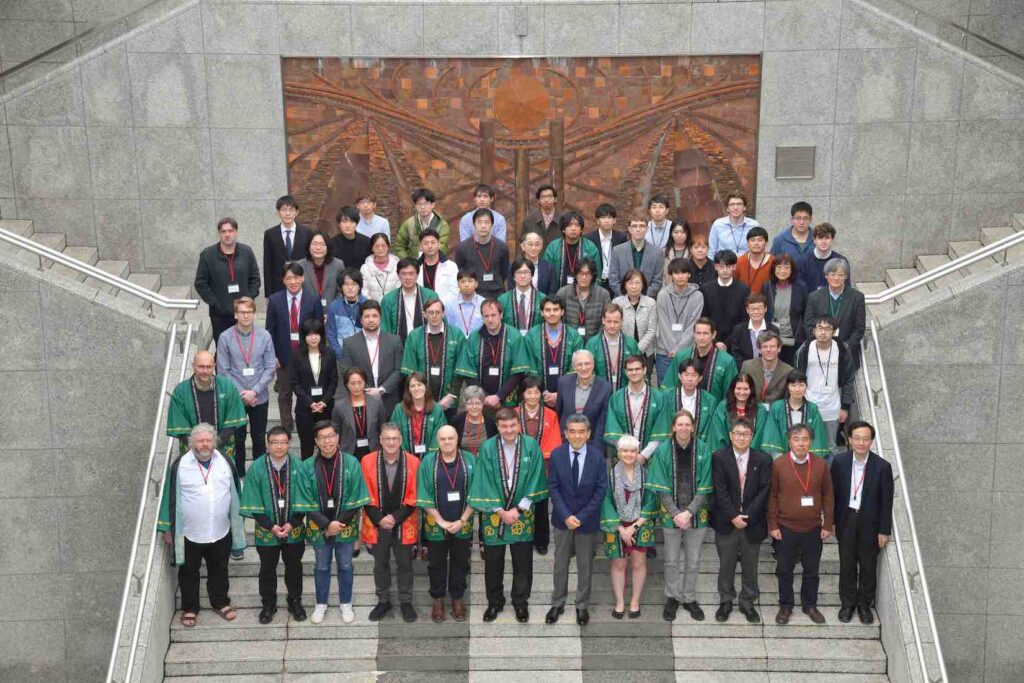 The highly anticipated Kickoff Symposium for the International Institute for Sustainability with Knotted Chiral Meta Matter (SKCM2), Hiroshima University WPI, brought together world-renowned scientists, young researchers, and distinguished local and national government officials to celebrate the formal opening of the Institute. The Symposium, held from March 20th to March 22nd, 2023, consisted of three days of scientific presentations, poster sessions, and discussions related to chiral meta matter and center missions. The Symposium featured 15 distinguished researchers who delivered lectures on various aspects of chiral meta matter from mathematical, physical, chemical, and biological viewpoints.
A total of 285 participants were invited to the symposium, including young researchers who had the chance to talk with overseas researchers. During the bento box-poster lunches, there was active and engaged conversation occurring in every corner of the Hiroshima Conference Hall. Collaborations were initiated, and many invited international guests expressed more possibilities to engage with SKCM2. For example, Dr. Mark Dennis sees the potential for cooperation between SKCM2 and his research centers at the University of Birmingham, the EPSRC Centre for Doctoral Training in Topological Design and the Centre for Topological Science and Engineering.
Two panels covered the topics of "Interlinking Top International Scientists at the Hiroshima WPI" and "Global Science for a Sustainable Future & G7." The first panel included James Steward, Director of Hiroshima International School; Takashi Nishiyama, Director of MEXT; Jorge Tendeiro, Program Manager, HU; Carolin Funck, Vice President, HU; and Petur Bryde, Student, Harvard University. The panel discussed many unique challenges for institutes at Hiroshima University, which is a national university located in a rural setting. However, they found many avenues for synergy between various existing HU programs and highlighted the exceptionally warm and welcoming community at HU. The second panel consisted of Satoshi Odoi, Director of International Affairs, Science and Technology Policy Bureau; Reiko Kuroda, Designated Professor, Chubu University; Katarzyna Matczyshyn, Assoc. Prof. Wroclaw U of Science and Technology; and Shinji Kaneko, Vice President, HU, and this panel discussed many topics, including how to train the next generation of scientists in the importance of science for society.